Nov
24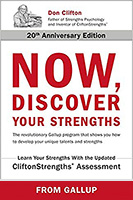 About the Book
I purchased a used book called Now Discover Your Strengths by Marcus Buckingham. It is a terrific book for anyone who wants to find out more about themselves or for people working in human resources. (If you are interested in similar Free personality tests, take a look at the Big 5 Tests and various Jung Tests on SimilarMinds.com.)
Disappointing Surprise
I really enjoyed this book and didn't hesitate to buy it because I loved the first book co-authored by Marcus Buckingham called First, Break All the Rules. The one thing that really disappointed me though was that the Strengths Finder test can only be taken once. That meant that since the person who originally bought the book took the test, I could not take the same test! Half of the book requires that the reader take the test. Nowhere does it say, "Warning, this book is completely useless unless you take the test. Do not buy this used!" No, I found out half way through the book. To the authors and publishers of this book, STOP being so greedy. People will pay to take the test, but don't make them purchase the entire book! Ok. Thanks for letting me get that out.
Email from LeadershipNow
I emailed leadershipnow.com and this is the response I received:
Joey,

Six of our strengths-related books include a single-use Clifton StrengthsFinder access code – part of the value to the original purchaser. But in choosing a used book, even one in "new condition," the buyer must understand that their savings is due not only to the fact that the book has been read, but also that the single-use access code has been used and is no longer valid.

The StrengthsFinder program, assessment, and website are the product of more than four decades of research and a multimillion-dollar R&D project. To ensure the quality and consistency of the StrengthsFinder message — and for the website to be personalized around your top five themes — one access code is included with the purchase of each strengths-based book, and access codes are not sold separately. To obtain an unused code, please consider purchasing a new copy of this or another of our books which include an access code:

–   StrengthsFinder 2.0  (2007) – Our most highly recommended book, this is the newest book in the StrengthsFinder series, and the only one which provides access to the latest version of the assessment. While there are few changes to the assessment itself, you'll receive your results in an exciting new personalized report. For more information on other advantages of StrengthsFinder 2.0, visit http://sf2.strengthsfinder.com/content/26014/Discover-2.0.aspx

–   Now, Discover Your Strengths  (2001) – The classic book that introduced the Clifton StrengthsFinder to the public. Written to help you uncover, understand and utilize your own unique talents.

–   Living Your Strengths  (2004) – Teaches you to identify and affirm your talents, as well as how to use them for growth and service. Great information for church congregations that want to help their members become more involved and engaged.

–   Teach With Your Strengths  (2005) – Helps teachers put their strengths to use and become the best teachers they can be.

–   Discover Your Sales Strengths  (2003) – By knowing and focusing on their strengths, sales professionals can excel and profit.

–   How Full is Your Bucket  (2004) – A small gem of a book that demonstrates how even the briefest interactions affect your relationships, productivity, health, and longevity.

The books are quite reasonably priced, are widely available in local bookstores and online booksellers, and represent a valuable investment in yourself. Be sure to buy a new copy, as the access code in each book provides the original purchaser a single opportunity to take the Clifton StrengthsFinder. To learn more about these books, please visit http://www.gallup.com/press/17473/Gallup-Press.aspx.

Thank you,

Jim

Gallup Client Support
My Homegrown Solution
After feeling very frustrated, I decided to take some other tests to get an idea of my personality type according to other long-standing methods such as the Big 5 and the Jung/Myers Briggs tests. After doing multiple types of personality tests, I have found that there are some "self-reporting" tests where the assumptions is that the test-taker can best decide which category they fit into instead of using testing methods to "figure out" which categories they fit into. If you're honest with yourself, you can achieve accurate results by self-reporting. If you can't be honest with yourself, you'll have to get "tricked" into choosing the honest answer through traditional testing methods where they ask the same question many different ways in order to find the most accurate answer. If you can't be honest with the way you answer the questions, then that requires you to purchase the book to take the Strengths Finder Test.
So lets assume that you can be honest with yourself and choose to do the self-reporting method. What you'll need to do is go through the list of themes and rate yourself from 1-10 based on how much you relate to the description.
Summary of Talent Themes
Here are summarized descriptions of the 34 talent themes found on Strengthstest.com. If you need more detailed descriptions, you can find full page descriptions as well as examples in your book:
Achiever

Activator

Adaptability

Analytical

Arranger

Belief

Command

Communication

Competition

Connectedness

Consistency

Context

Deliberative

Developer

Discipline

Fairness / Empathy

Focus

Futuristic

Harmony

Ideation

Inclusiveness / Includer

Individualization

Input

Intellection

Learner

Maximizer

Positivity

Relator

Responsibility

Restorative

Self-Assurance

Significance

Strategic

Woo
Quick Self-Reporting Test
Now that you know what the 34 themes are, you can now rate yourself based on how much you associate with each talent theme. *When rating, use at least 1 decimal place. For example, it is better to write 9.5 rather than rounding up to 10. This will help when you are trying to determine your top 5 themes since you might have more than 5 themes that score equally high. In these cases, being as precise as possible with your rating will help break ties.
| | |
| --- | --- |
| Theme | Rating (1-10) * |
| Achiever | |
| Activator | |
| Adaptability | |
| Analytical | |
| Arranger | |
| Belief | |
| Command | |
| Communication | |
| Competition | |
| Connectedness | |
| Context | |
| Deliberative | |
| Developer | |
| Discipline | |
| Empathy | |
| Fairness | |
| Focus | |
| Futuristic | |
| Harmony | |
| Ideation | |
| Inclusiveness | |
| Individualization | |
| Input | |
| Intellection | |
| Learner | |
| Maximizer | |
| Positivity | |
| Relator | |
| Responsibility | |
| Restorative | |
| Self-Assurance | |
| Significance | |
| Strategic | |
| Woo | |
Top 5 Talent Themes
Look at which categories you rated highest. Pick the top 5. You should now have your top 5 talent themes! Now you can read the rest of the book without being completely lost. If you lost the original code, want to retake the test, or purchased a used book like I did, you might want to re-purchase the book so you can take the test. I am not sure whether the Strengths Finder Test would yield better results than self-reporting. I don't know, I am not a professional. But based on common sense, it seems like any relatively intelligent person could figure out which talent themes they associate with most.